FABRIC STRUCTURES USA IS YOUR CONTAINER MOUNTED STRUCTURES SOLUTION!
Protect anything from the weather using Container Mounted Tents for construction, warehousing and workshops.
If you are in need of a remote area or construction site work shop, warehouse or storage facility, Fabric Structures-USA may have the perfect solution to solve your needs. If you are a construction professional you know that many jobsites don't always have convenient on-site work shops or storage facilities. What that means is untold hours are lost driving between the jobsite and your shop or storage facility. If that is a problem you are facing then you are in the right place. You have probably seen "Construction storage tents" on jobsites all over the country but maybe you never knew where to find them or what to call them, which is not uncommon. Most people really don't know what to look for, so we're glad you found this page. Fabric Structures-USA supplies heavy duty, industrial grade fabric structures for just about anything you can imagine from large warehouses and workshops to small storage shelters.
Perhaps one of the absolute smartest and best uses of our structures is using the combination of our fabric structure with ISO shipping containers to create a "container mounted workshop", "container mounted storage shelter", or "container mounted warehouse". By combining one of our structures with your shipping containers you are able to almost instantly create a large covered temporary workshop or temporary warehouse.
Typically, standard, shipping containers are either 20'L or 40'L and normally they are 8'W x 8'-6"H unless it is a high cube container which is 9'-6"H. By placing 2 containers square and parallel from one another and then spanning them with one of our structures you instantly create a covered area that can be used for virtually anything. You can even make much longer structures by putting even more containers end to end and if you need even more height you can stack your containers on top of one another.
What makes this application so smart is by combining our structures with your containers not only do you get a wide open clear span shop or warehouse you have great lockable, secure storage for any valuable equipment and tools that you need to protect. The containers greatly reduce the cost of the structure because they add height so the structure itself does not need to be as tall. When you mount on standard 8'-6" high shipping containers you actually reduce the lineal amount of steel in each truss by 17'! You also reduce the amount of fabric by 17' x the length of the structure which will greatly reduce the structures cost.
If this application sounds like the perfect solution for you but you need to have a fully enclosed area, just let us know how many containers you want to stack up and we can build end panels with doors that extend to the ground to fully enclose your "container mounted tent". We can even make mesh end panels that allow fresh air in while allow hot air to escape.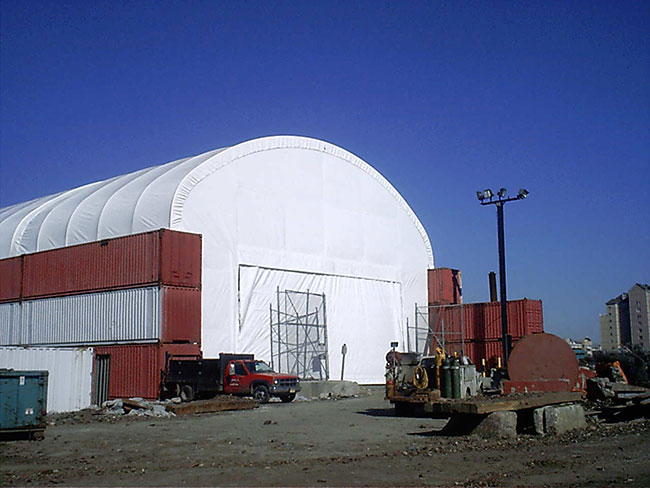 Large fully enclosed container mounted warehouse
Container Mounted On-Site Storage Tent
On-Site Container Mounted Workshop